Nameless!
This article has not been given a name, as such, the name Gidget's Owners, is purely conjectural.
Gidget's Owners
Physical Information
Species
Human
Sex

Male and Female

Appearance
Fashionable
Personal Information
Residence
New York
Likes
Gidget
Production Information
Debut
The Secret Life of Pets
Voiced by
Mona Marshall (Female)
Gidget's Owners are young couples who are the owners of Gidget. They live in an apartment, which is located next to the Apartment Building where Max lives.
The female owner is voiced by Mona Marshall, while the male owner has no voice actor.
Bio
Gidget's owners are a couple; the husband is a bearded and half-bald man of black hair while his wife has blonde hair and is a skinny woman. In the morning of the day Duke is adopted, the wife says goodbye to him before she leaves. She is seen with her husband at the night of the next day, and they are just back from shopping. They later prepare sushi as their supper and they give Gidget a glass of dog snacks.Gidget's Owners/Gallery
Trivia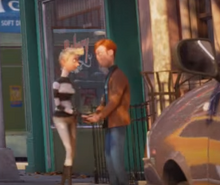 The next morning after Duke was adopted by Katie, the wife (or at least a woman resembles her) is seen to greet and kiss with a man in front of a store near to the Apartment Building. It is said that she is actually her twin sister.[1]
The husband bears a striking resemblance to Louis C.K., the actor who voiced Max.
The wife bears a striking resemblance to Ellen DeGeneres.
Early Concept Art
References