New York
The city of New York.
Geographical Information
Type
Metropolitian city
Location
United States of America
Level
Highrise urban conurbation
Location Profile
Inhabitants
Humans & assorted pets
Population
~8.5 million
Status
Pet-infested
New York is a coastline American city in the state of New York and is the main setting of the universe of The Secret Life of Pets. It is a bustling urban city with a developed motorway system often congested with traffic, an extensive sewer system leading to its popular waterways and lots of highrise properties dominating its skyline. The city's overcrowded animal population is policed by Animal Control to ensure that all pets are domesticated or in the confines of the City Pound. The busy commuter lifestyle of New York makes its humans all the less aware of the pets' inordinary lives.
Locations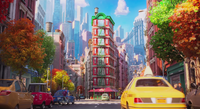 The apartment building that all the pets live is deep within the metropolitian borough of Manhattan of New York. There is a whole society of street pets that live in the alleys and abandoned buildings of the city. There are many landmarks and famous locations within New York that are featured in The Secret Life of Pets, such as the Brooklyn Bridge, Washington Square Park and the Central Park. The city also has a sewer system stretching underneath the city, which links its buildings to the waterways of the Hudson River and the East River. The city is also very industrial and has a lot of factories - with an underground base of a one abandoned factory in the film that serve as a lair for The Flushed Pets and a sausage factory named Weiner Kingdom in Brooklyn.
Trivia
The following shows and companies were shown in the movie as ads:

'The Tonight Show with Jimmy Fallon'
'The Voice'
'Saturday Night Live'
PetSmart
Motts
YouTube
xfinity
'Americas Got Talent'
Gallery
To view the gallery for New York, click here.