Nameless!
This article has not been given a name, as such, the name The Pigeons, is purely conjectural.
The Pigeons
Physical Information
Species
Pigeon
Personal Information
Likes
Dislikes
Barked by dogs
Production Information
Debut
The Secret Life of Pets
The Pigeons are minor characters in The Secret Life of Pets.
Bio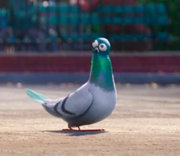 The pigeons are one of the common species in New York. In a flashback of Max, he approached one of the pigeon and barked at it, but the pigeon pecked him, which horrified him and Katie chuckled for his naivete.
Later, when Max is gone, his neighbors are led by Pops to go to the sewers, and one of the ways that they move is by carrying by a huge flock of pigeons to Guillermo's Apartment. Tiberius catches one of the pigeons but he is stopped by Sweet Pea.