These are all the songs that can be heard in the movie that are not on the soundtrack.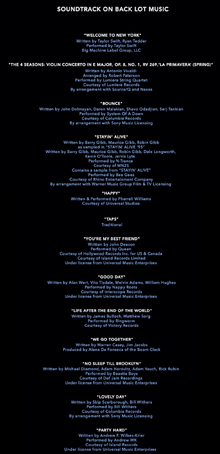 Additional Songs
Movie Songs
Here is the list in order of appearance.
Spring
Stayin' Alive
Happy
Taps
You're My Best Friend
Life After the End of the World
No Sleep Till Brooklyn
Lovely Day
Party Hard
Trailer Songs
Do Your Thing
Wild Wild Love
Welcome to my Home
See also
Ad blocker interference detected!
Wikia is a free-to-use site that makes money from advertising. We have a modified experience for viewers using ad blockers

Wikia is not accessible if you've made further modifications. Remove the custom ad blocker rule(s) and the page will load as expected.