The Secret Life of Pets is now released on DVD and Blu-Ray!
Get yours from here! (Walmart)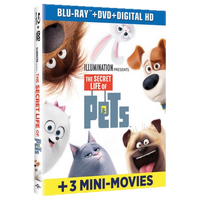 Blogs
Create blog post
Blogslist
Question for everyone today... who is your favorite character (or characters if you have more than one) from the movie The Secret Life of Pets?

My top three favorite characters are Chloe, Gidget and T…

Read more >

This is where the white-furred characters can be classified. I would like to start with Gidget because she is so fluffy and puffy. She likes pink as her personal color because she loves wearing it. N…

Read more >

Which genres of music do you guys think that Gidget would like?

Read more >
See more >
Polls
Who should be the featured character for December 2018
Which mini-movie of The Secret Life of Pets do you like the most?